On the road again ... I hope ...
Thanks so much to all of you for supporting my music! It was so, so lovely to be out on tour again in November, playing and singing for other real live flesh-and-blood human beings in the same room as myself. 
I'm hoping to be able to do the same again starting next week … but if you or your friends have been thinking about coming to any of my Jan-Feb UK gigs, PLEASE buy your tickets in advance. I've just been told that my Wychwood Folk Club gig on 22nd January is in danger of being cancelled due to low sales — which would be a disaster for me, as I'm counting on it to help defray the travel costs between Penzance and my Fulbourn Arts gig the day before. 
Due to quarantine restrictions on top of other difficulties with travel to Europe, I've also now had to cancel my entire March-April Netherlands-Germany-Belgium-Denmark tour — so Martin and I have both just lost 5 weeks of work, and with it a big chunk of our income for the first half of this year. 
If there's anything that any of you can do to help spread the word and get people out to the Jan-Feb gigs, I'd be really, really grateful. See the Tour page for details of all shows listed in the image below.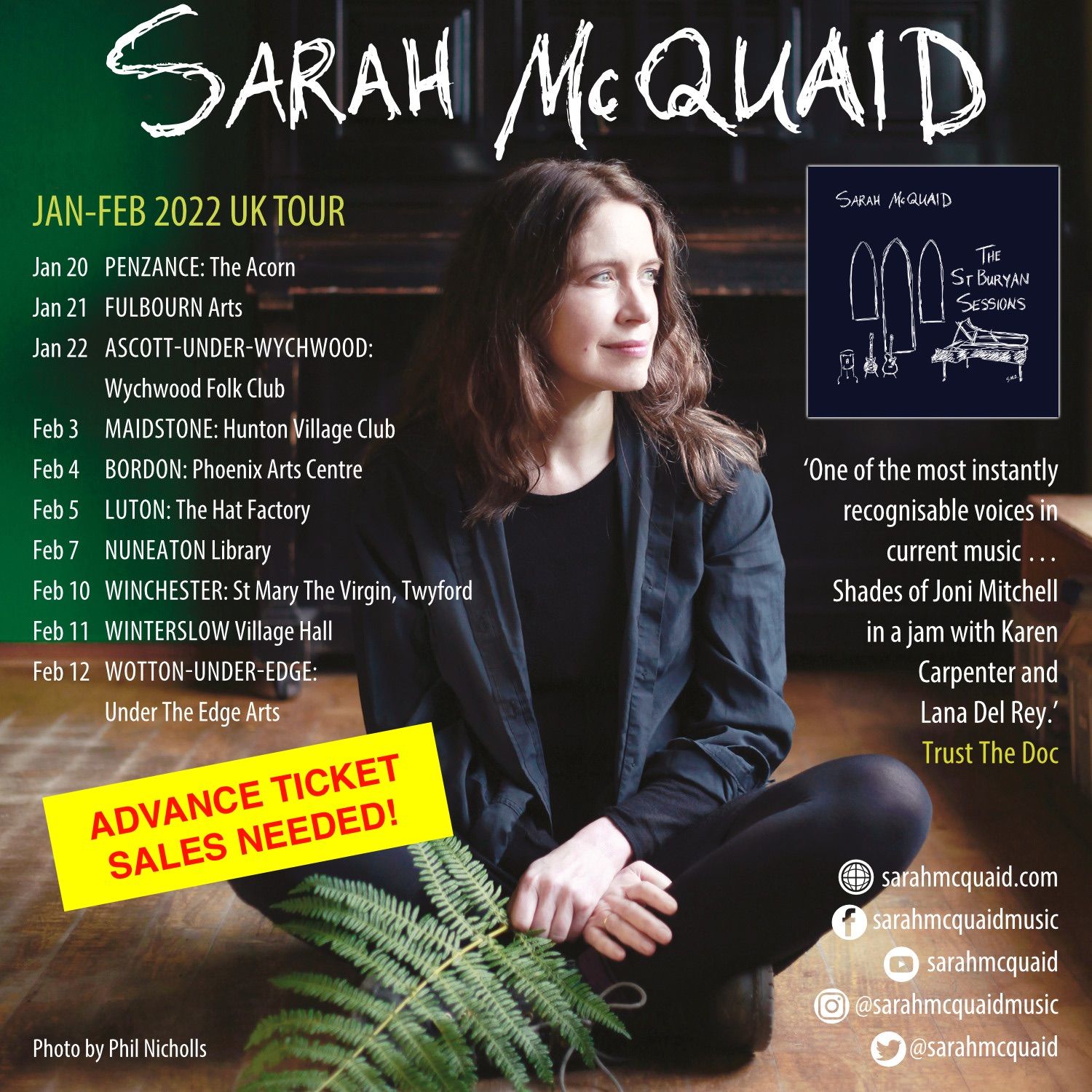 On a more positive note, I'm tremendously honoured to be one of three artists shortlisted by Fatea Magazine for Female Artist of the Year 2021! And in excellent company too. Massive thanks to Neil King and all at Fatea, and great big congrats to my fellow nominees Charlie Dore and Jenny Colquitt as well as to all the superb artists shortlisted for the other categories — click here for the full list. The winners of the Fatea Awards will be announced during a two hour radio special, this year hosted by Blues and Roots Radio, on January 14th at 8PM UK time. 
Meanwhile, my new live-in-lockdown album The St Buryan Sessions (released 15 October 2021 on CD and limited-edition blue vinyl double LP) is still getting rave reviews — see the Press page to read them — and making it onto best-of-2021 lists on three continents. 
Needless to say, I'm totally humbled and awed by the incredible response. All credit to my wonderful manager and sound engineer Martin Stansbury, who also produced and recorded the album and whose superb job of capturing the beautiful natural acoustic of the building has come in for mention in a bunch of the reviews. It's all really heartening to see, and inspires me to keep on trying my best to sustain a career in these financially daunting times. 
Among those who included The St Buryan Sessions on their best-of lists for the year were 2ser 107.3fm in Sydney, Australia; the "Ear To The Ground" radio show on Nashville's WXNA FM; the Netherlands' "Slim Chance" music blog; and the UK's "Strummers & Dreamers" show on Cambridge 105 and Blues & Roots Radio. 
USA podcast Radio Crystal Blue ranked me as their Top International Artist for 2021 and The St Buryan Sessions as their No. 3 album of the year; Scottish music writer Stuart Hamilton of the "Zeitgeist" blog ranked it No. 1 on his Best of 2021 list, writing "There isn't a moment here that isn't beautifully executed. You'll be hard pushed to hear a better acoustic record this year. In fact, you won't, which is why you really need to head off and order a copy now." 
Mawgan Lewis' gorgeous videos of all 15 tracks can now be viewed on my YouTube channel, together with a 9-minute documentary, "The Making Of The St Buryan Sessions", featuring interviews and song snippets, and a 59-second promotional video about the album. I've collected all the videos together into one playlist, with the tracks in the same order as they appear on the album — click here to check it out!
Thank you so much once again, please do help to spread the word if you can, and I hope to see you down the road.